19 Plants Means Everything Is Local
Unlike some other producers, Hiland operates 19 plants and 64 distribution centers across the region, each employing the latest in high-tech robotics and other state-of-the-art technologies. This improves efficiency and ensures that our milk typically goes from cow to table in just 48 hours — meeting your customers' demand for ultimate freshness.
Alert
All non-essential visitors are restricted from entry to our facilities until further notice. If you believe your visit is essential today, please call 417 862-9311 to speak with someone.
With COVID-19 top of mind for everyone, we are taking steps at Hiland Dairy to continue to support our customers and protect our staff through this time. Delivering the same high levels of product, service and support that Hiland associates have come to expect remains our highest priority – so too, is ensuring the health and safety of our workforce.
Our production, distribution, sales and overall operations are unaffected and will continue normal operations.
No disruption to any Hiland Dairy operations is anticipated.
Sincerely,
Hiland Dairy Foods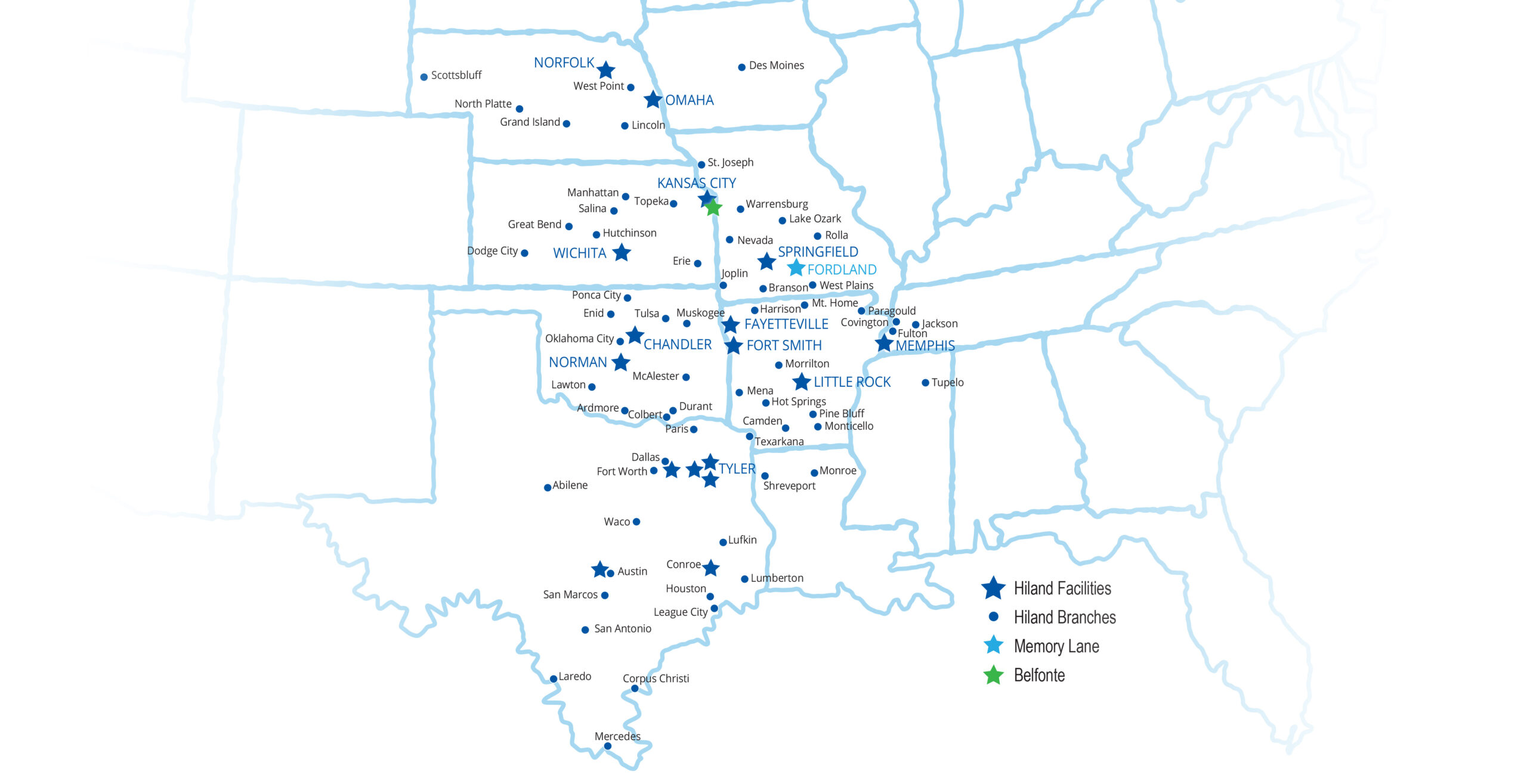 Springfield, MO
1133 East Kearney
Springfield, MO 65803
417-862-9311
Fayetteville, AR
301 East 15th Street
Fayetteville, AR 72701
479-521-1707
Fort Smith, AR
301 N. 10th Street
Fort Smith, AR 72901
479-782-0383
Little Rock, AR
6901 Interstate 30
Little Rock, AR 72209
501-748-1700
Wichita, KS
700 East Central
Wichita, KS 67202
316-267-4221
Kansas City, MO
3805 S. Emanuel Cleaver II Blvd.
Kansas City, MO 64128
816-921-7370
Norfolk, NE
700 E. Omaha Ave.
Norfolk, NE 68701
402-371-3660
Omaha, NE
2901 Cuming St.
Omaha, NE 68131
402-344-4321
Chandler, OK
1100 Thunderbird Road
Chandler, OK 74834
405-258-3100
Norman, OK
302 South Porter
Norman, OK 73071
405-321-3191
Tulsa, OK
215 N. Denver Ave.
Tulsa, OK 74103
918-437-1344
Austin, TX
14225 Sun Crest Drive
Manor, TX 78653
512-272-4750
Conroe, TX
900 E. Semands Street
Conroe, TX 77301
936-760-8467
Dallas, TX
11049 Shady Trail Road
Dallas, TX 75229
214-353-8507
Tyler, TX
200 N. Fuller Ave.
Tyler, TX 75702
903-565-0288