Light Sour Cream Chicken Enchiladas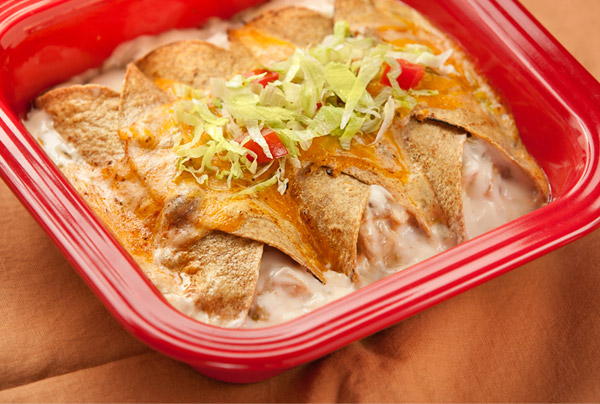 Print Recipe
Prep Time
20 Minutes

Cook Time
30 Minutes

Servings
4
Ingredients
1 container (8 ounces) Hiland Dairy Light Sour Cream
1 container (8 ounces) plain fat-free yogurt
1 can (10 3/4 ounces) condensed cream of chicken soup
1 can (4 ounces) chopped green chiles, undrained
12 whole-wheat tortillas
1 cup (4 ounces) Hiland Dairy Shredded Cheddar Cheese
1 1/2 cups chopped cooked chicken mixed with 1 packet taco seasoning
1/4 cup chopped yellow onion
Shredded lettuce, if desired
Chopped tomatoes, if desired
Directions
Heat oven to 350 degrees. Spray 13×9-inch (3-quart) baking dish with cooking spray.
In medium bowl, mix sour cream, yogurt, soup and chiles.
Spoon about 3 tablespoons sour cream mixture down center of each tortilla. Reserve 1/4 cup of the cheese.
Sprinkle tortillas with remaining cheese, chicken and onions. Roll up; place in baking dish.
Spoon remaining sour cream mixture over tortillas. Cover with foil. Bake for 25 to 30 minutes or until hot and bubbly.
Sprinkle with reserved 1/4 cup cheese. Bake uncovered 5 minutes longer or until cheese is melted. Garnish with shredded lettuce and chopped tomatoes.