Pumpkin Quiche with Quinoa Crust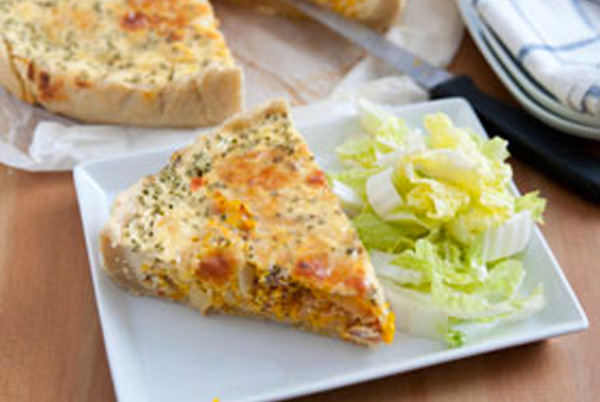 Print Recipe
Prep Time
90 Minutes

Cook Time
60 Minutes

Servings
8
Ingredients
Cooking Spray
2 cups cooked quinoa
1 tablespoon reduced-fat cream cheese, softened
1 egg white
1 cup Hiland Dairy 1% Milk
2 large eggs
1 teaspoon chopped fresh thyme
¼ teaspoon salt
¼ teaspoon ground black pepper
¼ teaspoon ground nutmeg
1 cup canned pumpkin purée
Directions
Preheat the oven to 400°F.
Coat an 8-inch baking pan with cooking spray and set aside.
Mix together the cooked quinoa, cream cheese and egg in a medium bowl until thoroughly combined.
Cover and refrigerate for 1 hour.
Press the quinoa crust mixture into the bottom and up the sides of a pie pan.
Bake the crust for 10 minutes, remove from oven and set aside.
Turn the oven down to 350°F.
In a large bowl, whisk together the quiche filling ingredients until well blended and frothy.
Gently pour the pumpkin mixture into the partially-cooked quinoa crust.
Bake for 40-45 minutes or until set.