Broccoli Bacon Quiche Bites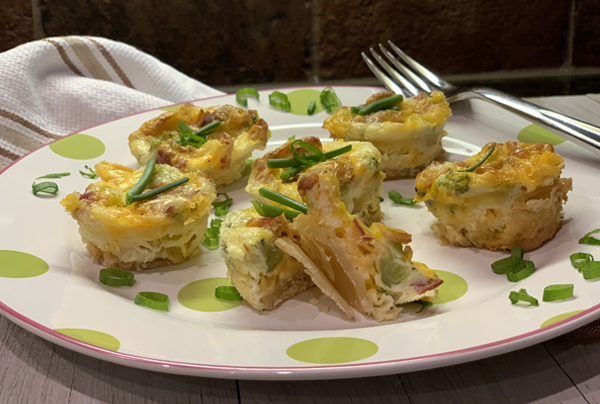 Print Recipe
Ingredients
1 refrigerated pie crust
6 large eggs, beaten
1 cup Hiland Dairy heavy whipping cream
salt and pepper, to taste
pinch ground cayenne pepper
1 1/2 cups Hiland Dairy cheddar cheese, grated
8 slices fully cooked bacon
10 ounce box frozen chopped broccoli
1/4 cup hite onion, finely chopped
1/2 cup Hiland Dairy cheddar cheese, grated (for topping)
1/4 cup scallions, chopped (for garnish)
Directions
Preheat the oven to 375° F. Coat a mini muffin cups with nonstick cooking spray and set aside.
Using a small round cutter, cut small discs out of the refrigerated pie crust and place into the bottom of each muffin cup. Pre-bake in oven for 10 minutes.
Whisk together eggs and heavy whipping cream until light and fluffy. Whisk in salt, pepper and cayenne pepper until well blended.
Prepare the bacon and broccoli as directed on their respective packages. Crumble bacon.
Stir cheese into the egg mixture and scoop into each muffin cup.
Top with onion, bacon, broccoli and extra cheese. Bake in oven for 20 minutes, or until the egg mixture is set.
Remove muffin tin from the oven and let rest for about five minutes. Garnish with scallions before serving.