Bacon Breakfast Burrito with Milk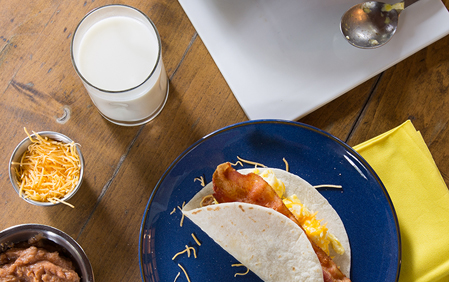 Print Recipe
Prep Time
10 Minutes

Cook Time
10 Minutes

Servings
1
Ingredients
2 tablespoons reduced-sodium refried beans
1 egg
1 slice bacon
6″ flour tortilla
2 tablespoons Hiland Dairy Shredded Cheddar Cheese
8 oz. Hiland Dairy Fat Free Milk
Directions
Place refried beans into a microwave safe bowl; cover with plastic wrap and heat 1-2 minutes until warm.
Gently crack egg in bowl and beat well with a wire whisk.
Pour egg into non-stick skillet and cook over low heat, stirring gently, until egg is firm but still moist. Remove from heat.
Line a microwave safe dish with paper towels , place slice of bacon on top and cover with more layers of paper towels; microwave on high for 1 minute and check for desired doneness.
Warm flour tortilla on skillet over medium heat for about 1 minute on each side or until soft.
Fill tortilla with beans, egg, bacon and top with shredded cheese.
Serve with 8-ounce glass of milk.