Thai Chicken Noodle Soup
During this busy holiday season, our regular routines get put on the back burner for the hustle and bustle of list-making, grocery trips, online shopping, and food prep for holiday dinners. This is when a slow cooker should become your best friend for weeknight suppers! I slow cook about five pounds of shredded chicken, freeze in separate sealable bags, and use as needed. A few of my go-to recipes include Chicken and Mushroom Marsala Pasta, Shredded Chicken Tacos, and one of my favorites, Thai Chicken Noodle Soup.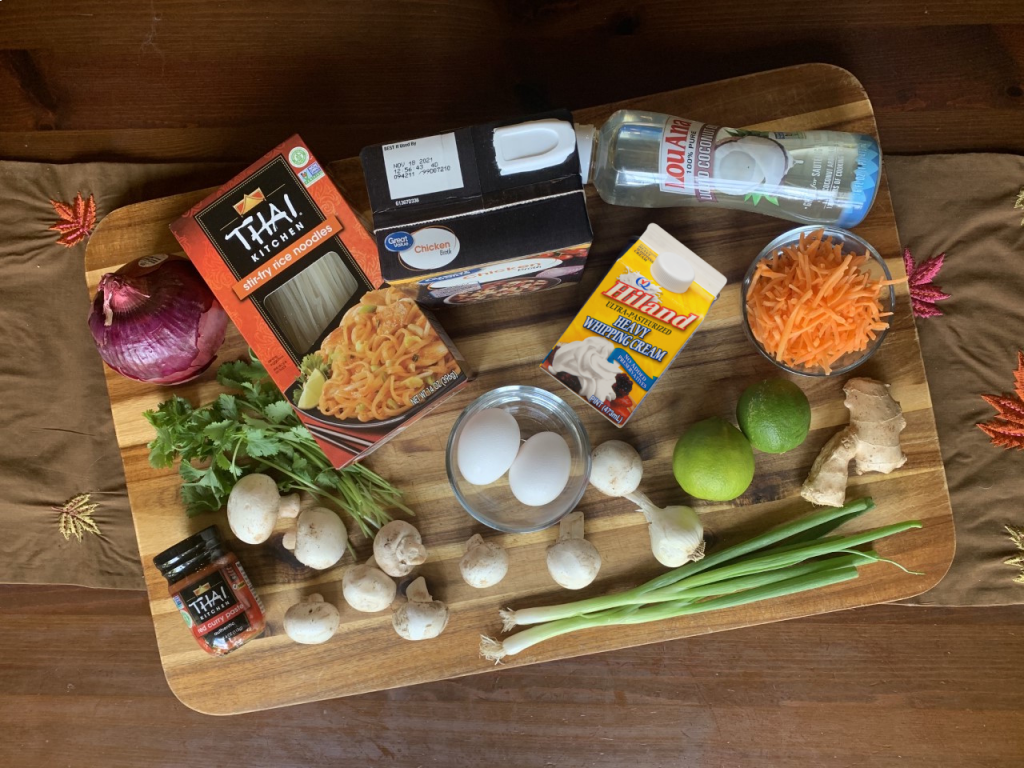 To make the shredded chicken simply place boneless, skinless chicken breasts in your slow cooker. Sprinkle with 1 tablespoon each of salt, pepper, onion powder, and garlic powder, pour in 1 cup of chicken broth and one cup of water and cook on high for three hours. Remove excess liquid and shred with forks.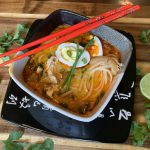 Print Recipe
Thai Chicken Noodle Soup
1

pound

shredded chicken

1

tablespoon

coconut oil

1

cup

red onion

thinly sliced

2

garlic cloves

minced

1

tablespoon

fresh ginger

minced

Tip: Use a spoon to scrape off the skin and into those "hard-to-get" crevices.

3

tablespoons

red curry paste

6

cups

chicken broth

1

cup

carrots

julienned

12

oz.

white mushrooms

quartered

8

oz.

rice noodles

1

pint

Hiland Heavy Whipping Cream

2

tablespoons

lime juice

freshly squeezed

1/3

cup

fresh cilantro

chopped

Optional: top with hard boiled egg slices and fresh chopped green onion and chives
Drizzle coconut oil in a large dutch oven and heat to medium-high. Add red onions and sauté for about 3 minutes. Add in the garlic and ginger and sauté for 30 seconds until fragrant, stirring the entire time.

Add the red curry paste and stir for about 1 minute until it thickens.

Pour in the chicken broth and bring to a boil. Add the shredded chicken and lower to a simmer.

In the meantime, cook the rice noodles according to the package. Drain and rinse in cold water to stop the cooking process.

Add noodles, carrots, and mushrooms to the chicken broth.

Scoop about 1 cup of the broth out of the pot and add it to a bowl along with the Hiland Heavy Whipping Cream. Blend until the mixture looks creamy and the broth and cream do not separate.

Pour in the cream mixture into the soup pot. Stir and simmer for 5 minutes.

Stir in chopped cilantro and lime juice right before serving. Top with chopped green onions and garnish with chives and sliced hard-boiled eggs.
Diva's Tip: If you want more heat, add ½ teaspoon of red pepper flakes.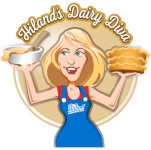 ~ The Dairy Diva