Super Smoothie Bowls
It's that time of year to wrap up football season with bowl games, championship rings, and great party food. But for those who want a lighter alternative to the typical gameday spread, try serving delicious and healthy Hiland Smoothie bowls as an option.
Made with hometown fresh ingredients, these NEW! Hiland Smoothies are loaded with essential vitamins and minerals that will give your guests the energy they need to cheer on their favorite teams.
Here are a few of my Smoothie Bowl creations:
Tropical Mango Smoothie Bowl
Once you infuse fruity chunks and nutty flavors to Hiland Mango Smoothie, you'll bring the tropics to your favorite football-watching couch. I poured a Hiland Mango Smoothie drink in a bowl and topped it with vibrant blueberries, sliced almonds, and sliced kiwi.
PB & Strawberry Smoothie Bowl
This is a deconstructed take on the classic PB&J. I added sliced bananas and strawberries and drizzled warm peanut butter on top of a Hiland Strawberry Smoothie drink.
Pina Colada Pineapple Smoothie
Crunchy granola, sweet pineapple chunks and a sprinkle of coconut make this a crowd-pleaser. Simply pour a Hiland Pina Colada Smoothie drink in a bowl, freeze for one hour and top it with tropical flavors. It's like sitting on the beach in January!
Diva's Tip:

Try creating your own smoothie bowl using any of the other NEW! wholesome Hiland Smoothie flavors including Peach, Pecan Cereal, Guanabana and Strawberry Banana! They're all delicious!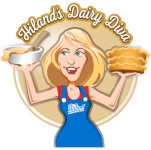 ~The Dairy Diva