Over the Top Milkshake
This post was contributed by Lolo Home Kitchen.
The over-the-top Milkshake is an anything goes, kid in a candy store, childhood dreams kind of fun treat. This one is all about joy and fun! Also, probably need a few friends to share with. Perfect for a celebration!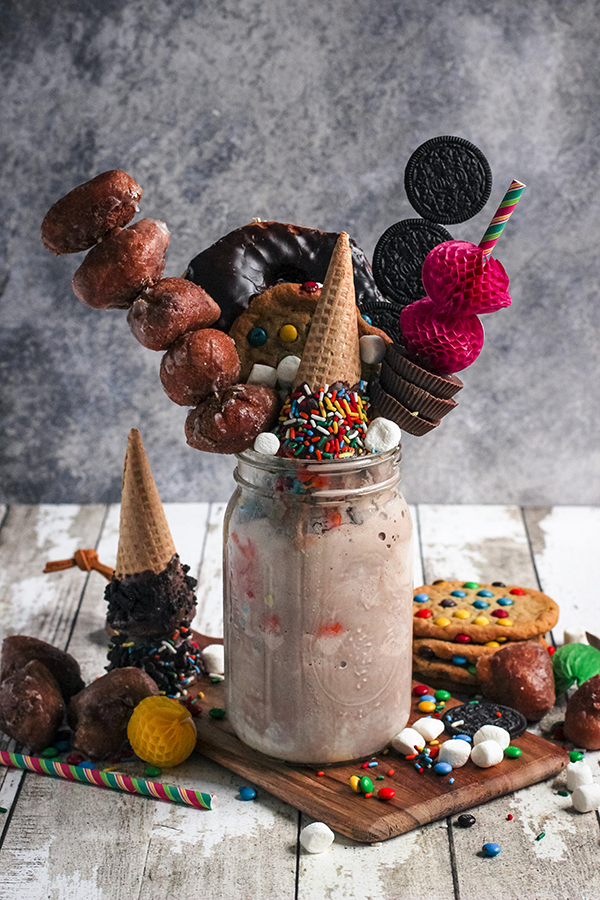 The over-the-top milkshake is so fun to make because you can let your imagination run wild. Anything goes! I chose all of my favorite things: Donuts, Oreos, Reeses Cups, Donut Holes, Marshmallows, Chocolate Chips, M&Ms and cookies. Pure joy!
First you get to start with the milkshake. Choose your favorite flavor of Hiland Dairy Ice Cream to make it extra special. I chose chocolate for mine because Hiland's chocolate never disappoints. Super rich and creamy, full of rich chocolate flavor. Recipe below for my favorite milkshake!
Then you get to build. Don't worry, you can't go wrong. Pick your favorite treats and just build layers of fun! Don't forget the straw! Or maybe grab a few, this one needs to be shared and celebrated!
Check out the recipe for my favorite milkshake and details on how to build an Over the Top Milkshake.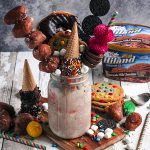 Print Recipe
Over the Top Milkshake
2

cups

Hiland Dairy Ice Cream

(any flavor)

2/3

cup

Hiland Dairy Milk

for a chocolate milkshake, add 1 Tablespoon chocolate syrup

for a malt, add 1 Tablespoon malted milk powder

Over the Top ideas: cookies, donuts, donut holes, cotton candy, Oreos, Reeses PB Cups, lollipops, chocolate chips, M&Ms, marshmallows, cupcakes, graham crackers, candy.
Remove your Hiland Dairy ice cream from the freezer and let soften slightly. Also, chill a couple glasses in the freezer while you prepare the milkshake.

In a blender, add the milk, ice cream and any add-ins you like. Blend on medium for about a minute.

Pour milkshake into the chilled glass then you can start to build your masterpiece. Start with the biggest items like Donuts, cupcakes or cookies. Then use skewer sticks or straws to build up things like donut holes, cookies, candy, etc. Keep adding and playing until you create a one of a kind Over the Top Milkshake.