Loaded Baked Potato Salad
This post was contributed by Lolo Home Kitchen.
Loaded Baked Potato Salad is packed with all the best stuff from a regular baked potato: cheese, sour cream, bacon and green onions. Easy to make and a huge hit!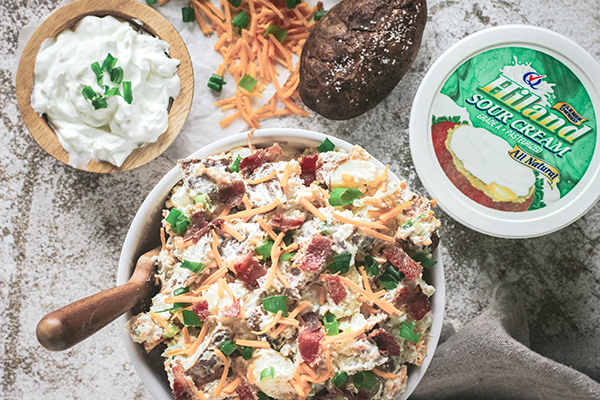 A loaded baked potato is one of those incredible comfort foods that instantly makes me feel like summer is here. This salad is packed with all the best stuff of the original baked potato- cheese, bacon, green onions and sour cream Incredibly easy to make and always a huge hit.
Even better is that you can make this your own. Like bacon? (of course you do), add more. Love cheese? (obviously), throw some more cheese on. Want it a little more creamy? (my kind of potato salad), add some more sour cream. So good!
Check out the recipe below and give it a try this summer!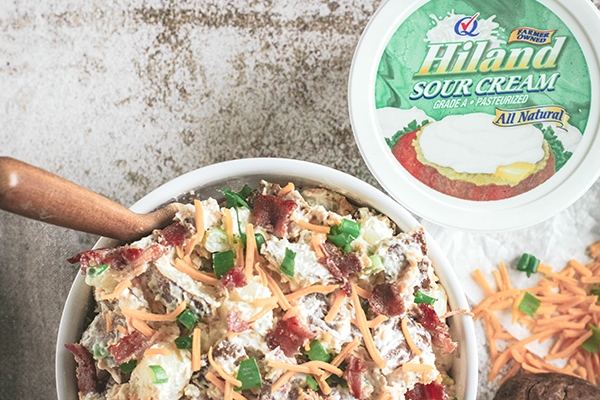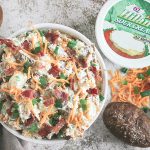 Print Recipe
Loaded Baked Potato Salad
4

lbs

russet potatoes

olive oil

salt

3

Tbsp

apple cider vinegar

1

cup

mayonnaise

3/4

cup

Hiland Dairy sour cream or plain yogurt

1

tsp

ground pepper

10-12

pieces of bacon, cooked and torn into large pieces

6

 green onions, chopped

1 1/2

cups

shredded cheddar cheese
Preheat oven to 400 degrees. Place potatoes on a baking sheet and pierce with a knife or fork about 4 times.

Brush the tops of the potatoes with olive oil and sprinkle with salt. Cook for about 50 minutes or until a knife goes into the potato easily.

Remove from the oven and cool for 5-10 minutes. You can either leave the skins on or peel them at this time. (I like to leave the skins on). Cut potatoes into large chunks, about 1 inch. Place all the pieces into a large bowl.

Pour the apple cider vinegar over the potatoes and toss. Set aside to cool for about 15-20 minutes.

Cook the bacon in a skillet, oven or microwave. Let cool slightly and then tear into pieces.

In a small bowl, combine the Hiland Dairy Sour Cream and the mayonnaise. (You can also use Hiland Dairy Plain Yogurt in place of sour cream). Add the salt and pepper and mix to combine.

Once potatoes are cooled, pour the sour cream mixture over the potatoes. Add the bacon, green onions and shredded cheese. Gently mix all the ingredients together. Taste and add more salt or pepper to taste.

Refrigerate for 2-3 hours before serving.