Festive Spicy Wreath Dip
It's that time of year where you will be heading to holiday parties or hosting one yourself. So, whether you are playing host or guest, this spicy wreath dip should definitely be on display. It's made with flavorful and fresh Hiland Dairy cheeses, cream cheese and butter. Trust me! This dip won't hang around for long!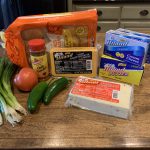 Print Recipe
Festive Spicy Wreath Dip
For the Cheese Dip
2½

cups

Hiland Dairy Pepper Jack Cheese, shredded

2

cups

Hiland Dairy Sharp Cheddar Cheese, shredded and divided

2- 8

oz. blocks

Hiland Dairy Cream Cheese, softened

2

jalapenos, minced

1

teaspoon

chili powder

Kosher salt

Freshly ground black pepper
For the Rolls
1

package

butter rolls

¼

cup

Hiland Dairy butter, melted

½

teaspoon

garlic powder

¼

teaspoon

chili powder

1

small tomato, chopped

1

green onion, thinly sliced
Preheat oven to 350 degrees.

Pull apart each roll into four pieces.

In an iron skillet, place pieces of rolls around the edge of the skillet to form a "textured" ring.

Spoon the cream cheese mixture into the center of the skillet and smooth so that it touches the rolls. Top with remaining ½ cup cheddar.

Sprinkle tomatoes and green onions on the top of the roll ring. Stir together melted butter, garlic powder, and chili powder. Pour evenly over top the roll ring being sure to slightly brush the mixture so all the rolls are covered.

Bake until rolls are browned and cheese is melted and bubbly, 20 to 25 minutes.
~The Dairy Diva