DIY Luminary Snowman Family
Light up your front porch or walkway with this adorable Luminary Snowman Family. It's an easy DIY for you and your kids and will add so much charm to your holiday décor. The best part is you can use any size Hiland Dairy milk jug to build your family. Happy Holidays!
Materials
Hiland Dairy Milk Jugs
Colored permanent markers
Festive holiday hats
Glue gun and glue sticks
Fairy lights
Crafting knife
Instructions
Wash the milk jugs with warm soapy water. Fill each jug with hot water and let sit for five minutes. Peel off the glued labels.
Draw a cute face on each jug using permanent markers. See my Diva's Tip below for a craft hack that may come in handy during this step.
Cut an opening in the back of each jug.
Carefully add a string of fairy lights through the opening in the back.
Diva's Tip
Oops! Don't like how you drew the eyes, nose or mouth? Simply use fingernail polish remover to wipe away the permanent marker.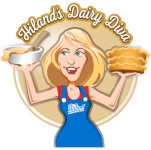 ~ The Dairy Diva