Cream Buffalo Chicken Dip
Let's face it. The trick to any successful get-together depends on the buffet. One of my favorite must-have dishes is this creamy buffalo chicken dip made with Hiland Dairy's award-winning cream cheese. It's definitely a crowd-pleaser because it's usually the first thing gobbled up and I usually get asked for the recipe. Here it is!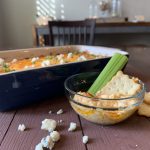 Print Recipe
Creamy Buffalo Chicken Dip
3

cups

shredded rotisserie chicken

1

tsp

olive oil

1

stalk

celery, diced

1

package (8 oz)

Hiland Diary Cream Cheese

3/4

cup

ranch dressing

3/4

cup

blue cheese dressing

1/3

cup

hot pepper sauce

1 1/2

cups

Hiland Dairy Sharp Cheddar Cheese

Chopped green onions and blue cheese crumbles, optional
Preheat oven to 350 degrees.

Heat oil in a large skillet. Sautee the chopped celery until soft, about two minutes.

Mix in the cream cheese, blue cheese dressing and ranch dressing. Cook until cream cheese is
completely melted and mixture is smooth and creamy.

Bake uncovered for 30 minutes until edges are golden brown and bubbly.

Top with green onions and blue cheese crumbles. Serve warm with celery sticks and chicken
flavored crackers.
Diva's Tip
Want to spice up things? Add a pinch of cayenne pepper and some seafood seasoning. Also, try swapping out a ½ cup of Hiland Dairy Sharp Cheddar Cheese with a ½ cup of Hiland Dairy Pepper Jack Cheese.