Cottage Cheese for Lean Muscle & Tasty Topping Ideas
This is a guest contribution by The Fit Fork.
I take my snacking seriously . . . despite being a big goofball. All my crazy energy spent and the gym, running and just tackling life need replenishment in a quick but healthy way.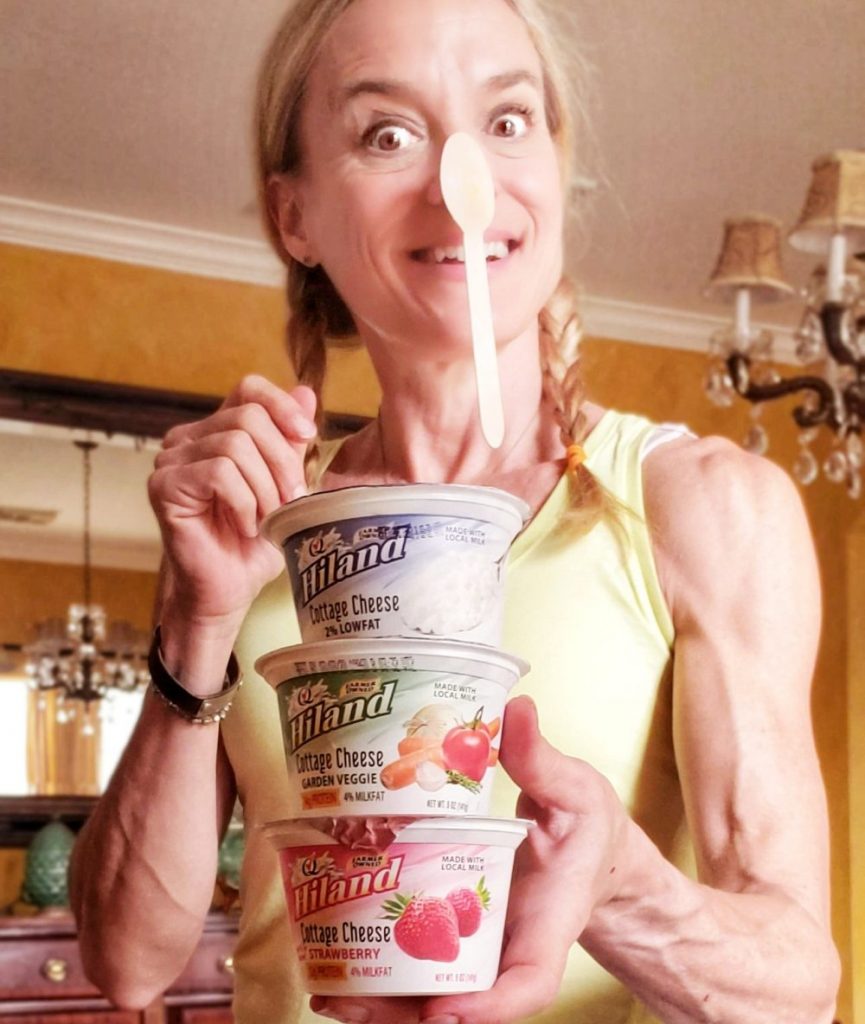 I've long relied on dairy products to fuel me between meals and right now I'm loving the new single-serve cottage cheeses from Hiland Dairy. Hiland Dairy offers these cottage cheese in fruit flavors, savory flavors – and of course, plain and lower-fat curd varieties. Delicious eaten on-the-go and also a great foundation for yummy toppings. Learn more about cottage cheese as a muscle-building, healthy snack, find my creative topping ideas, and enter the Hiland Dairy Giveaway.
As I mentioned in the intro, cottage cheese has long been a top food choice among dieters, bodybuilders and those regular folks looking to build or maintain lean muscle mass. Protein makes up 70% of the calories in plain cottage cheese, and 80% of this protein is casein protein which is absorbed slowly by the body, affording longer-lasting energy and helping to keep the "hangries" away! Casein protein is even said to help prevent muscle breakdown during the night time "fast" if eaten as a bedtime snack.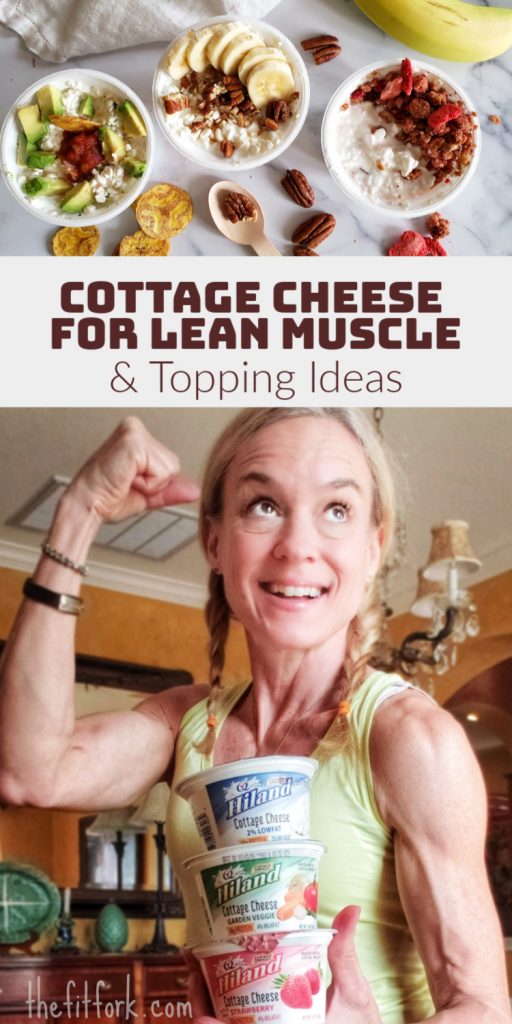 I like the new 5-ounce cottage cheese cups from Hiland Dairy for many reasons, other than just the quality and taste. First, I like the single-serve packaging – this means I can grab and go on my way to the gym or work. Plus, portion-control and freshness are easier to maintain.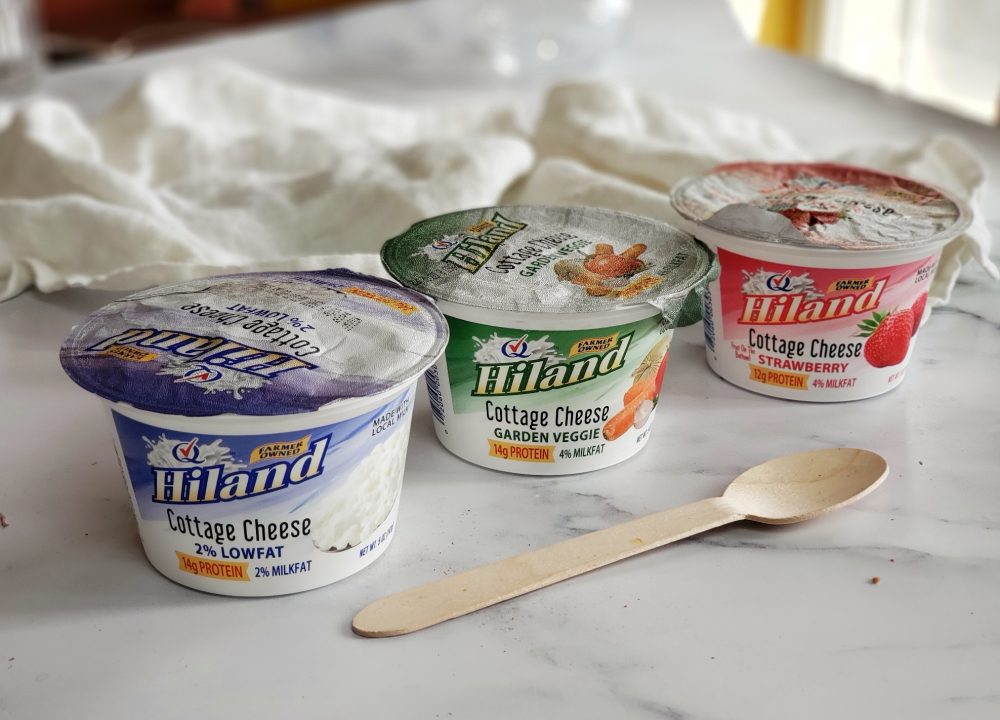 I think there may be over a million different ways to top Hiland Dairy Cottage Cheese cups, really you are only limited by your imagination and taste preferences! Today, I'm sharing the latest way I've enjoyed my three favorite flavors – 2% plain cottage cheese, strawberry (fruit on the bottom) cottage cheese, and savory garden veggie cottage cheese.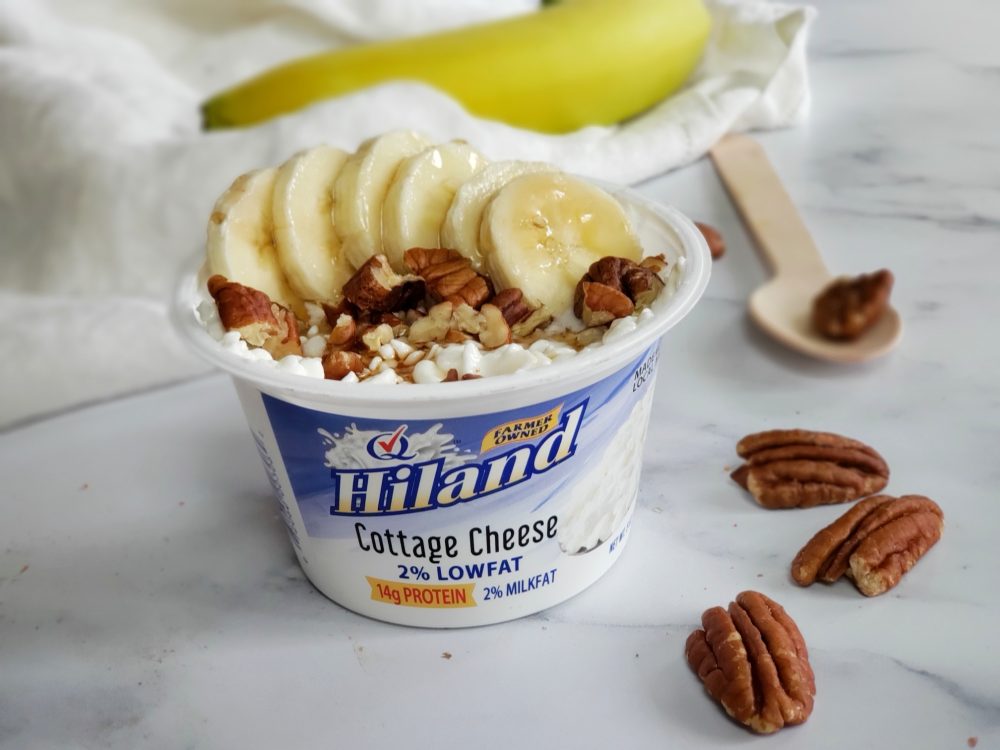 2% Low Fat Cottage Cheese Cup: When it comes to cottage cheese, yogurt, milk and such, I typically choose the "plain" and "unsweetened" so that I can fix up just like I want. To this plain yogurt cup, I added half a sliced banana, chopped pecans, and sugar-free maple syrup.
Strawberry Cottage Cheese: I topped with my favorite PB&J granola … .that also happened to included freeze-dried strawberries to complement the "fruit on the bottom" strawberries in the cup.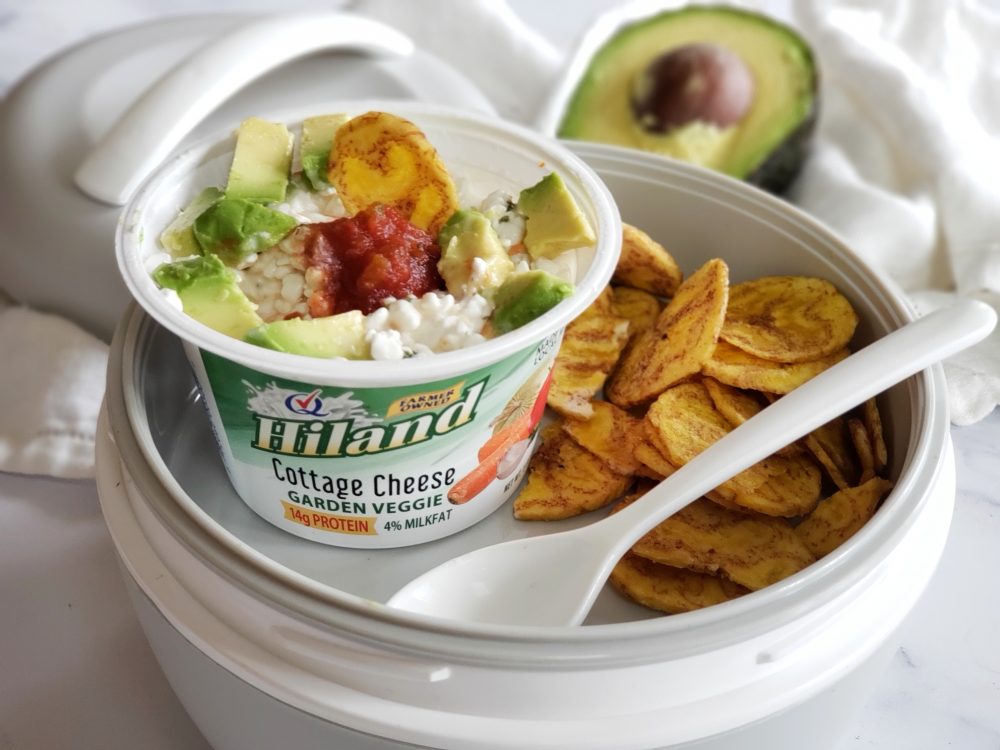 Garden Veggie Cottage Cheese: Before this cottage cheese snack creation, I had only used plain cottage cheese in a savory way in pasta or potatoes – not as a stand-alone snack. It's surprisingly tasty and I topped with chopped avocado and salsa for some extra "ole" in my day!
Do you have any topping ideas? I'd love to hear them, just share in the comments or tag me @thefitfork with your photo on Instagram.
AND, enter the Hiland Dairy Giveaway for a chance to win free products and a "Get Fit" pack. You'll also find recipes and savings to help you stick with your fitness goals. ENTER HERE