Butterscotch Truffles
This post was contributed by Lolo Home Kitchen.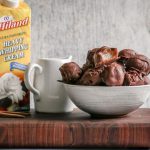 Print Recipe
Butterscotch Truffles
1

cup

Hiland Dairy Butter

1

cup

Brown Sugar

1/4

cup

Hiland Dairy Heavy Cream

1 1/2

cup

Milk Chocolate Chips
Spray a baking dish with nonstick spray. (size doesn't matter) Set aside. 

In a saucepan over medium heat, heat the Hiland butter, brown sugar, and Hiland heavy cream. Whisk continuously for about 12 minutes. 

Remove from heat and pour into the baking dish. Let cool completely. You can place it in the fridge to speed up the process. 

Once cooled, melt the chocolate chips in a microwave-safe bowl in 30 second increments until melted and smooth. 

Prepare a baking sheet with parchment paper or spray with nonstick spray. Using a cookie scoop or spoon, scoop out the butterscotch mixture and roll into a ball. About 1 Tablespoon size but you can make any size you like. Dip the ball into the melted chocolate and coat the entire ball. Using a fork and/or a toothpick, shake off the excess chocolate and place onto the baking sheet. 

Place back in the fridge to set and then enjoy!