Baked Brioche French Toast
This post was contributed by Blackberry Babe.
We've had a bunch of neighborhood kids spending time with us this summer, since summer school isn't in session and most summer camps are canceled. It's been a daily challenge to feed them something they all enjoy! One morning, I had several dozen eggs in the fridge, so I asked the kids if they wanted to have BREAKFAST for lunch! They were SO excited about it! I made this Baked Brioche French Toast, scrambled eggs, fresh fruit, and bacon.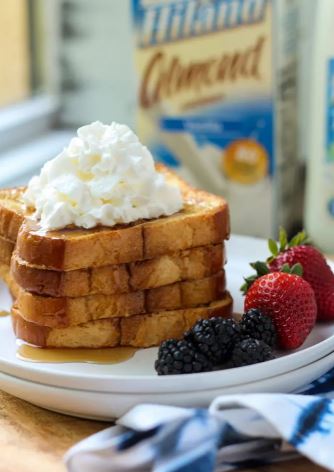 Although the past few months have been challenging, I'm finding that there is plenty of simple joy in going "back to basics" in our daily lives. Our neighbors have become like family, supporting us and helping us with everything from childcare to grocery runs.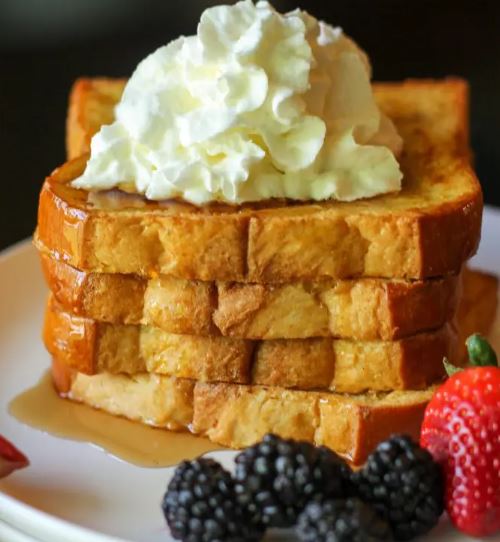 This focus on returning to basics has us more passionate than ever about using local and regional products. So, to make this Baked Brioche French Toast, I used Hiland Dairy products! Their milk is high quality and wholesome. If you want to make dairy-free French toast, I recommend using Hiland's Vanilla Almond Milk. It's delicious, and nobody will be able to tell the difference!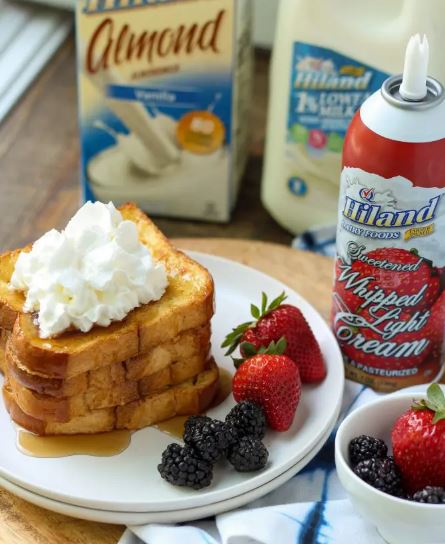 Traditionally, French toast is fried in the skillet. I chose to bake it because I had a LOT of other items to cook for the kiddos, and I needed this Brioche French Toast to be hands-off. This baked French toast is best when baked for 6 minutes per side. Remember to flip it, or you'll end up with one "crunchy" side and one "mushy" side!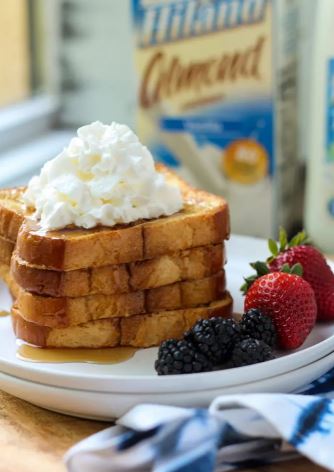 One of the reasons kids love baked French toast like this Baked Brioche French Toast is that it's fun to top! You can top it with syrup, powdered sugar, fruit or Hiland Dairy Whipped Cream!
To help bring some joy to your family, Hiland Dairy is hosting a giveaway! Enter here to win a year of free dairy, and a 1 on 1 cooking lesson with Chef Alli!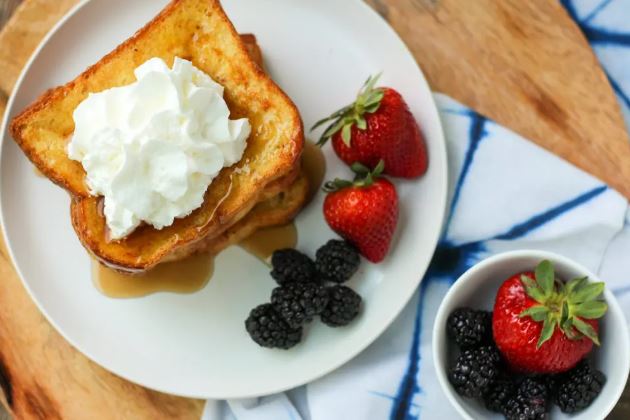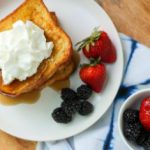 Print Recipe
BAKED BRIOCHE FRENCH TOAST
Preheat oven to 350 degrees Fahrenheit.

To a medium mixing bowl, add eggs, milk, cinnamon, and vanilla extract. Whisk well to combine.

Quickly dip EACH SIDE of the bread in the egg mixture. Do not allow to soak.

Grease a sheet pan and place the slices of bread on the pan.

Bake for 6 minutes, flip carefully with a spatula.

Bake for 6 minutes. Carefully remove from sheet pan with a spatula, serve warm.
PREP TIME 2 minutes
COOK TIME 12 minutes
TOTAL TIME 14 minutes