Vanilla Yogurt Honey Pancakes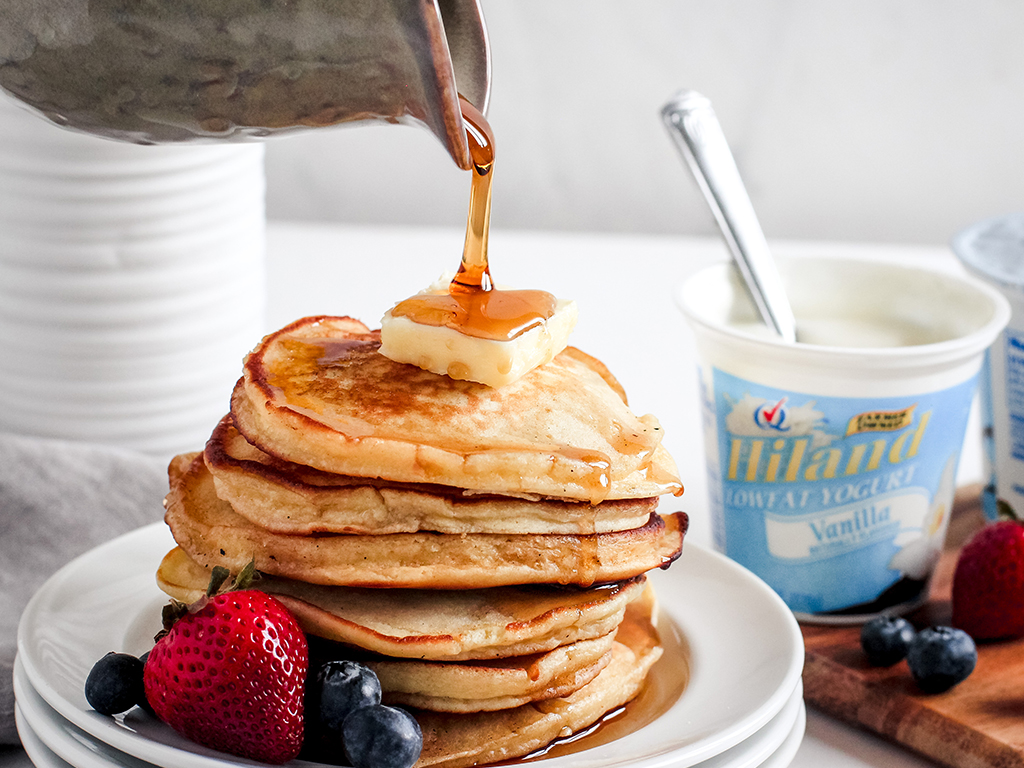 Print Recipe
Prep Time
20 Minutes

Cook Time
20 Minutes

Servings
4
Ingredients
1 cup all-purpose flour
2 tablespoons sugar
2 teaspoons baking powder
1/2 teaspoon baking soda
1/4 teaspoon salt
1 cup Hiland Dairy Yogurt
1 large egg
1/4 cup milk
2 tablespoons honey
2 tablespoons vegetable oil
Directions
In a large mixing bowl, whisk together the flour, sugar, baking powder, baking soda, and salt.
In another mixing bowl, whisk together the yogurt, egg, milk, honey, and vegetable oil until smooth.
Add the wet ingredients to the dry ingredients and whisk until just combined. The batter should be thick and lumpy.
Heat a nonstick skillet or griddle over medium-high heat. Melt a small amount of butter or coat with cooking spray.
Spoon 1/4 cup of the batter onto the skillet or griddle for each pancake.
Cook until bubbles form on the surface of the pancake and the edges start to look dry, about 2-3 minutes.
Flip the pancake and cook until golden brown on the other side, about 1-2 minutes.
Transfer the pancake to a plate and repeat with the remaining batter, adding more butter or cooking spray to the skillet or griddle as needed.
Serve the pancakes warm with additional honey, butter, or your favorite toppings.