Irish Potato Pie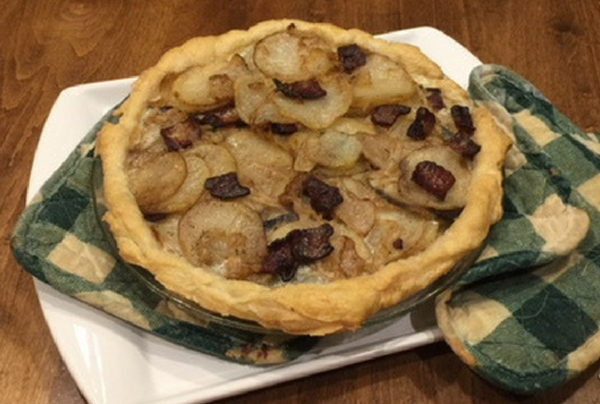 Print Recipe
Ingredients
1 sheet frozen puff pastry, thawed
4 tablespoons Hiland Dairy butter
8 think strips of bacon, chopped
4 large russet potatoes, peeled and thinly sliced
1 medium onion, thinly sliced
1 tablespoon fresh dill
1/2 cup Hiland Dairy heavy whipping cream
salt and pepper, to taste
Directions
Preheat oven to 350 F.
Press the pastry dough into an 8-inch pie dish and crimp the edges, cutting off any excess dough. Refrigerate until ready to use.
In a large skillet, melt the butter over medium-high heat. Add the bacon and sauté until crispy.
Toss in the onions, potatoes and dill. Salt and pepper to taste, and gently stir for approximately 3 minutes to coat ingredients with the butter and bacon drippings.
Spoon the mixture into the crust and drizzle with the heavy whipping cream.
Bake on the low rack for 45 minutes, or until the potatoes are fork-tender and the crust is golden brown.