Ice Cream Bon Bons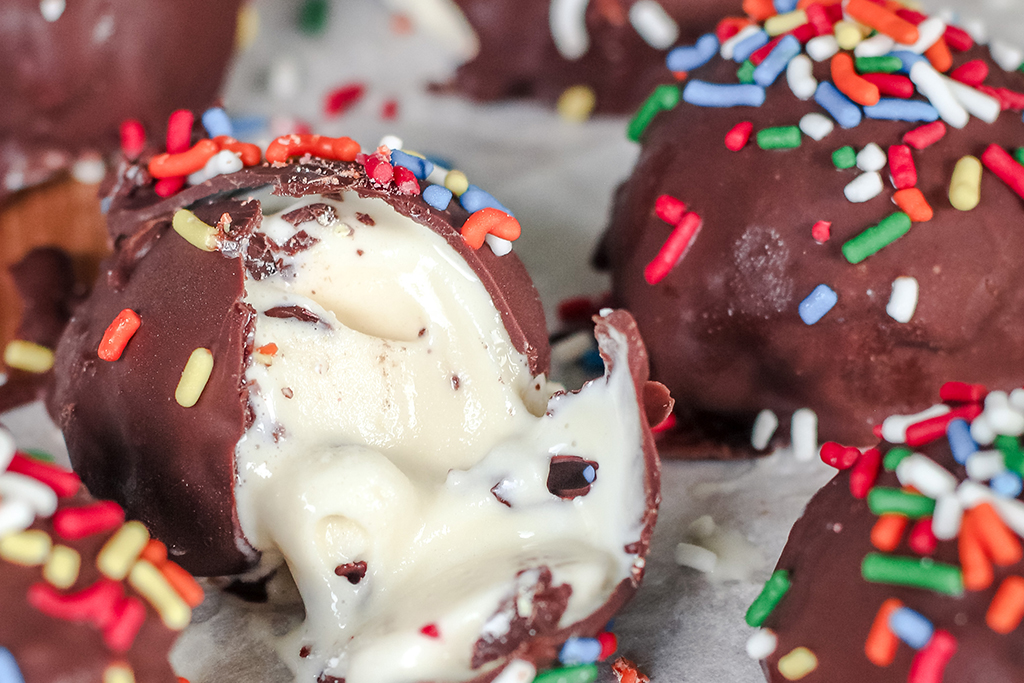 Print Recipe
Prep Time
15 Minutes

Servings
6
Ingredients
Hiland Dairy Ice Cream, any flavor
1 cup semi-sweet chocolate chips
1 tablespoon coconut oil (measured as a solid)
sprinkles
Directions
On a sheet pan lined with parchment paper, scoop out ice cream and place the scoops onto the sheet pan. Any size scoops will work, I like smaller bite size scoops. Place sheet pan of ice cream scoops in the freezer for about 15 minutes.
While ice cream scoops are in the freezer, you can prepare the chocolate. In a microwave safe bowl, add the chocolate chips and coconut oil. Heat in the microwave for 30 second increments and stir after each time until smooth. Let cool for a few minutes.
Take sheet pan out of freezer and then use a fork to dip the ice cream balls into the melted chocolate. (You'll need to work somewhat quickly) Cover ice cream completely in the chocolate and then tap off excess. Place back onto the sheet pan and sprinkle the sprinkles over the top.
Continue until all the ice cream balls are covered then place back in the freezer to firm up again for at least 30 minutes or until ready to serve.