Hot Brown Breakfast Sandwich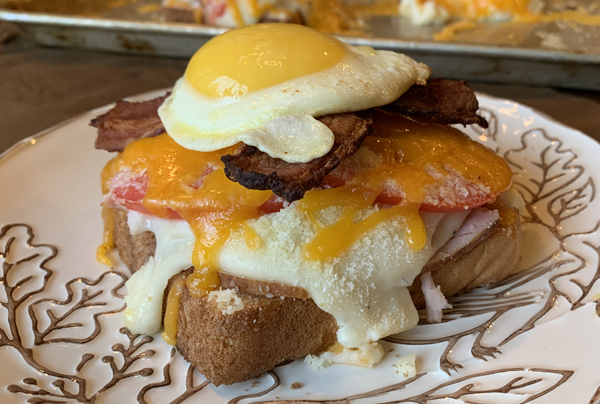 Print Recipe
Ingredients
Cream Gravy
1 Stick Hiland Dairy Butter
1 1/4 cup All-Purpose Flour
2 cups Hiland Dairy Whole Milk (or 2% Milk)
1 tablespoon Salt
2 cups Chicken Broth
1 Pinch Nutmeg
Sandwich
4 slices thick white bread
4 cups leftover turkey slices warmed
8 tomatoes thinly sliced
2 cups Hiland Dairy cheddar cheese
1/2 cup grated parmesan
8 slices cooked bacon
4 eggs
Directions
Melt butter in a medium saucepan. Stir in flour and cook for 1-2 minutes until it starts smelling like pie dough.
Gradually whisk in milk and chicken broth. Simmer and cook 2-3 minutes.
Remove from heat but keep warm.
Preheat oven to 350 degrees.
Butter each side of the bread and toast until golden brown on both sides.
Place toasted bread on a cooking sheet.
Place turkey slices on top of bread.
Ladle generous amounts of the creamy gravy over turkey.
Place two tomatoes sliced onto of gravy.
Cover with Parmesan cheese and cheddar cheese.
Crisscross two slices of bacon on top. Place in the oven until cheese is completely melted.
In the meantime, fry the eggs sunny side up. Remove the sandwiches from the oven and top each one with an egg.
Serve warm with a cold glass of farm-fresh Hiland Dairy Milk!