Homemade Ham and Cheese Pockets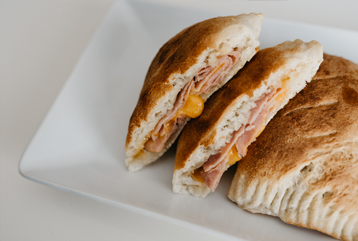 Print Recipe
Prep Time
15 Minutes

Cook Time
20 Minutes

Servings
12
Ingredients
1 tube/sheet of unbaked pizza crust
2 cups Hiland Dairy Shredded Cheddar Cheese
16 slices deli ham, thin cut
Directions
Preheat oven to 400º F and line 2 large baking sheets with parchment or silicone mats.
Divide dough into 8 even pieces, flattening them into 6" x 4" rectangles with a rolling pin or by hand.
Place ham and cheese on one side of each rectangle. Fold over other side and crimp with a fork to seal.
Create 2-3 slits in each pocket with a sharp knife to let steam escape.
Bake for 20-25 minutes or until golden brown, rotating baking sheet once.
Remove from oven, allow to cool until they can be handled, then serve.
Note: these can be frozen and then reheated in the microwave for a delicious grab-and-go snack or meal.