Heart Ravioli and Creamy Marinara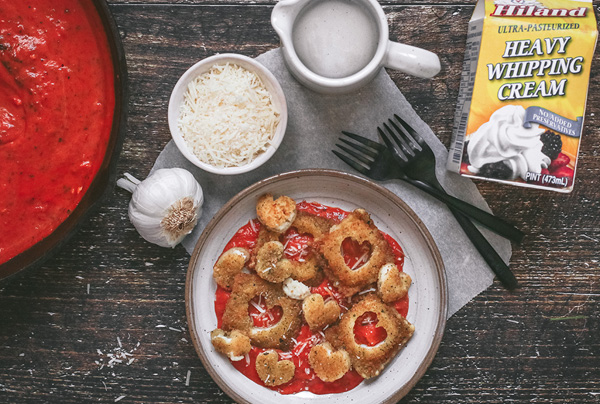 Print Recipe
Prep Time
20 Minutes

Cook Time
30 Minutes

Servings
4
Ingredients
Premade toasted ravioli
1 tbsp olive oil
1/2 cup onions chopped
1 tbsp garlic minced
1 jar marinara or spaghetti sauce
1 tbsp dried basil
1 tbsp dried oregano
1 tbsp sugar
1/2 tsp kosher salt
1/2 tsp ground black pepper
1/2 cup Hiland Dairy Heavy Cream
Directions
Cook the ravioli according to the box instructions. While the ravioli are cooking, in a large skillet over medium/high heat, drizzle the olive oil. Once hot, add the onions and cook for about a minute until soft. Next add the garlic and stir together, heat for another minute.
Add the marinara sauce to the pan. Then add the basil, oregano, sugar, salt and pepper. Stir together and heat until the sauce just begins to bubble.
Turn the heat to low and then add the heavy cream. Stir together. Let simmer on the stove while you prepare the ravioli.
Once the ravioli are cooked but cooled enough to handle, use a small heart shaped cookie cutter to punch a heart shape into the middle of the ravioli. Use a toothpick, if needed, to press out the small middle heart. Continue for each ravioli until all are done.
On a plate or bowl, spoon some of the marinara onto the plate then top with both the large raviolis and the heart shaped middles. Top with parmesan cheese and enjoy!