Crockpot Creamy Tomato Basil Chicken Recipe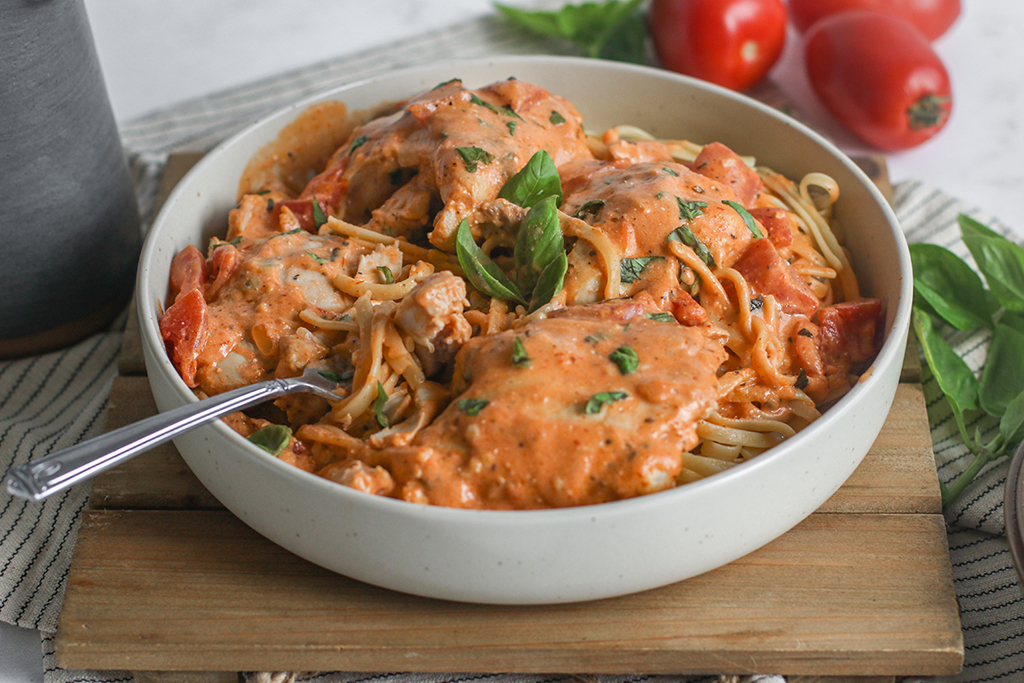 Print Recipe
Prep Time
30 Minutes

Cook Time
480 Minutes

Servings
6
Ingredients
1 can diced tomatoes with Italian herbs (14oz)
3/4 cup cup Spaghetti Sauce (or plain tomato sauce)
3/4 cup Hiland Dairy Heavy Cream
2 tablespoons cornstarch
1 tablespoon minced garlic
1 teaspoon kosher salt
1 teaspoon pepper
1 tablespoon dried basil
4-5 boneless chicken breasts or thighs
1/3 cup Hiland Dairy Sour Cream
Fresh basil to top
Directions
In a Slow Cooker, add the Italian diced tomatoes and spaghetti sauce. In a separate small bowl, whisk together the Hiland Heavy Cream and cornstarch. Add the mixture to the crockpot.
Add the minced garlic, basil, salt, and pepper. Stir everything together to combine. Add the chicken to the sauce and make sure to get the chicken covered by the sauce.
Place the cover on and cook on low for 6-8 hours or high for 4 hours.
Once done, remove the cover and add the Hiland Sour Cream. Stir together.
We like to eat this over noodles or rice, but it's great on its own or with veggies or a salad.
Add some freshly chopped basil to the top of the dish before serving if desired. Enjoy!