Crescent Pizza Rolls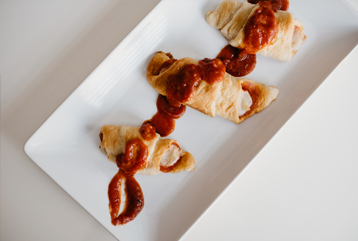 Print Recipe
Prep Time
15 Minutes

Cook Time
15 Minutes

Servings
8
Ingredients
1 8-oz. can refrigerated crescent dinner rolls
24 pepperoni slices
1/2 cup Hiland Dairy Shredded Mozzarella Cheese
1 cup marinara sauce, homemade or from a jar
Directions
Preheat oven to 375º F.
Separate crescent dough into triangles and place on work surface.
Place 3 pepperoni pieces, overlapping, on the shortest side of each triangle, parallel to that edge.
Place shredded mozzarella on top of pepperoni slices, enough to cover but not overflow.
Roll up, starting with the shortest side of the triangle, so that the pepperoni and cheese are in the center of the roll.
Place point-side down on ungreased cookie sheet and bake for 10-15 minutes, or until golden brown.
While rolls are cooking, heat up marinara sauce in the microwave or a small saucepan and serve with the pizza rolls as a dip.