Creamy Broccoli Lasagna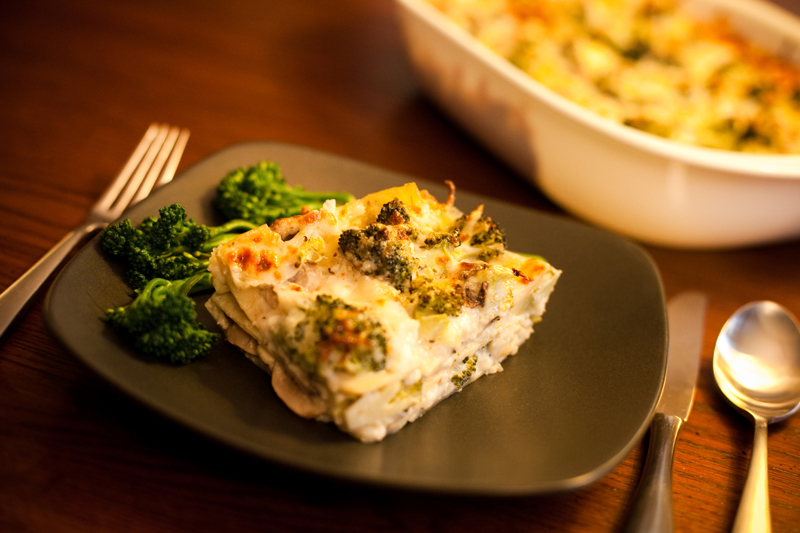 Print Recipe
Prep Time
25 Minutes

Cook Time
40 Minutes

Servings
8
Ingredients
9 uncooked lasagna noodles
1/4 cup chopped onion
1/4 cup Hiland Butter
1/4 cup all-purpose flour
2 tsp. chicken bouillon granules
3/4 tsp. garlic salt
1/4 tsp. pepper
1/4 tsp. dried thyme
2-1/2 cups Hiland 2% Milk
6 cups broccoli florets
1-1/2 cups Hiland 4% Cottage Cheese (small-curd)
2 jars (4-1/2-oz. each) sliced mushrooms, drained
2 packages (6-oz. each) sliced Swiss cheese
Directions
Cook noodles according to package directions. Meanwhile, in a large saucepan, sauté mushrooms and onion in butter until tender.
Add the flour, bouillon, garlic salt, pepper and thyme; stir until smooth.
Gradually add milk. Bring to a boil; cook and stir for 2 minutes or until thickened.
Add broccoli; cook for 3-5 minutes. Stir in cottage cheese and mushrooms. Drain noodles.
In a greased 13in.x 9in.x2in. baking dish, layer three noodles, a third of the sauce and a third of the Swiss cheese. Repeat layers twice.
Bake, uncovered, at 350 degrees for 35-40 minutes or until bubbly and broccoli is tender. Let stand for 10 minutes before cutting.