Cheesy Taco Breadsticks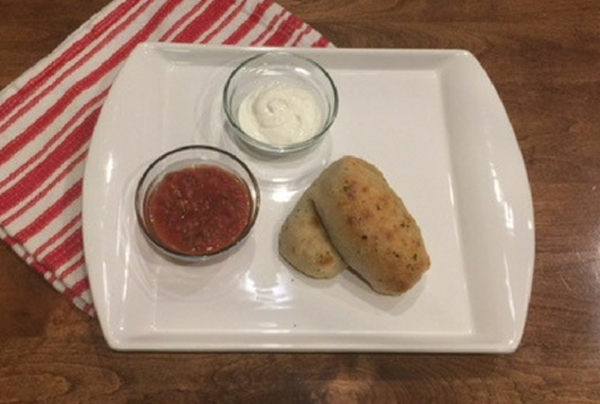 Print Recipe
Ingredients
1 pound ground sirloin
1 packet taco seasoning
1 tube (13.8 ounces) refrigerated pizza dough
1/2 block Hiland Dairy colby jack cheese, cut into sticks
2 tablespoons Hiland Dairy butter, melted
1/2 teaspoon garlic salt
1/2 teaspoon dried parsley
Hiland Dairy sour cream, for dipping
salsa, for dipping
Directions
Preheat oven to 425 F.
Lightly coat a large baking sheet with nonstick cooking spray.
In a large skillet, cook the ground sirloin, breaking it up into small pieces with a wooden spoon until completely browned and crumbled. Drain excess fat.
Mix in the taco seasoning without water and stir until fully coated. Let cool.
Slice cheese into sticks, equal in size.
Roll out the pizza dough flat.
Cut in half lengthwise, then make 3 cuts up and down, creating a total of 8 small rectangles.
Spoon 1 to 2 tablespoons of the taco meat into the center of each pizza dough rectangle, top each with a cheese stick and then carefully roll up and seal the dough to create breadsticks.
Combine the melted butter, garlic salt and parsley in a small bowl and brush it on the tops of the cheesy taco sticks.
Bake 10 to 12 minutes, or until golden brown on top.
Serve with salsa and sour cream for dipping.