Cottage Cheese Protein Pancakes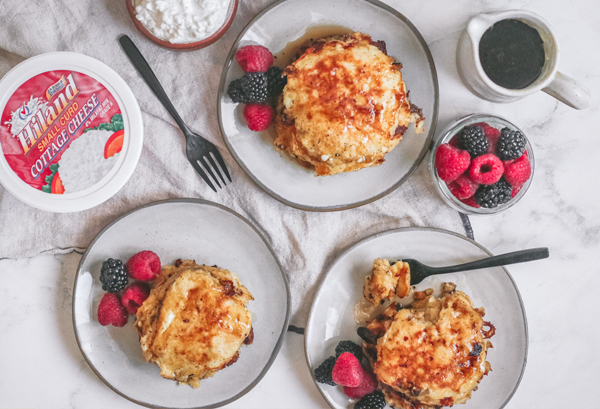 Print Recipe
Prep Time
10 Minutes

Cook Time
10 Minutes

Servings
6
Ingredients
4 eggs
1 1/2 cup Hiland Dairy Cottage Cheese (I used small curd)
2-3 tablespoons maple syrup
1 teaspoon pure vanilla extract
3/4 cup flour
2 tablespoons baking powder
1/4 teaspoon kosher salt
Directions
In a large bowl, whisk together the eggs, Hiland Cottage Cheese, maple syrup, and vanilla. Whisk until all combined.
Add the flour, baking powder, and salt to the bowl of wet ingredients and then mix again until just combined.
In a large skillet over medium heat, spray the pan with non-stick cooking spray or add butter. Spoon about 1/4 cup of batter onto the skillet and cook each side a few minutes each until golden brown.
Place finished pancakes on a plate and cover with a kitchen towel while you are continuing to cook the remaining batter.
Serve right away with more maple syrup and your favorite toppings. Enjoy!