Pumpkin Spice French Toast
It's time to put all the amazing fall flavors to good use this season by creating decadent dishes using your favorite recipes. Start with breakfast! Turn your ordinary French toast into succulent Pumpkin Spice French Toast that will have everyone begging for more. Top these delicious breakfast toasts with Hiland Dairy Butter, maple syrup and a shake or two of confectioner's sugar. The weekend can't get here fast enough!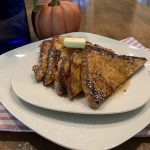 Print Recipe
Pumpkin Spice French Toast
In a glass pie dish, whisk together the eggs, milk, vanilla, and salt.

Melt four tablespoons of butter in a large skillet over medium-high heat.

Place a slice of bread into the milk mixture allowing the bread to soak a few seconds on each side.

Shake off excess milk mixture from the bread and place the slices into the hot skillet. Fry the toast until browned on one and flip to brown the other side.

Top the toast with a pad of butter and maple syrup.
Diva's Tip
Hiland Dairy's fall seasonal milks are now available! If you don't like pumpkin spice or want to try something new, use Hiland Dairy's Maple Pecan Milk instead!