Cream Cheese Cinnamon Cookies
This post was contributed by Lolo Home Kitchen.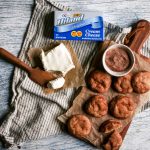 Print Recipe
Cream Cheese Cinnamon Cookies
In a large bowl with a hand mixer or using a stand mixer, mix the Hiland butter and cream cheese until smooth. Add the powdered sugar a little at a time and mix after each addition until smooth. Then add the egg, baking powder, vanilla and pinch of salt. Mix again. 

Scrape the sides of the bowl and then add the flour a bit at a time, mixing after each addition until all combined. 

Either cover the bowl or scoop dough into parchment or saran wrap and cover. Place in the fridge for at least an hour to chill. 

Once chilled, preheat the oven to 375 degrees. Mix the cinnamon and sugar together in a small bowl.

Scoop the dough and roll into balls about 1 Tablespoon size. Roll into a ball and roll in the cinnamon sugar to coat. 

Place the dough balls onto a baking sheet (prep with a silicone mat or nonstick spray). Place about 2 inches apart on the baking sheet. 

Bake for 8-9 minutes. Remove and let cool on the baking sheet for about 10 minutes and then transfer to a cooling rack.